PFU Celebrates Remarkable Achievement: 15 million*1 Scanner Products Manufactured and Shipped Globally.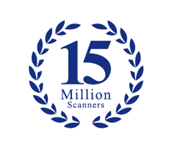 London, 16th October 2023
PFU, the market leader*2 in image capture globally, is proud to announce a significant milestone: the successful manufacturing and shipment of 15 million of its cutting-edge scanners to satisfied customers worldwide.
Since its inception, PFU has been committed to pushing the boundaries of technology and delivering high-quality, innovative solutions that improve the productivity of our customers globally. This achievement is a testament to the dedication and expertise of the entire PFU team.
The 15 million units manufactured and shipped encompass a wide range of Image Scanners (or document scanners), designed to meet the diverse needs of businesses both large and small, worldwide. These products have garnered acclaim for their advanced features, reliability, and performance, making them an essential choice.
Key highlights of this remarkable milestone include:
Unwavering Quality: Each of the 15 million products represents the culmination of PFU's commitment to excellence in design, engineering, and manufacturing. Rigorous quality control processes ensure that every product meets the highest industry standards.
Global Impact: PFU has reached customers in over 100 countries, making a significant impact on image capture technology adoption worldwide. The 15 million scanners are seen as the first step in major digital transformation projects and have been instrumental in improving productivity, enhancing connectivity, and driving innovation across diverse sectors.
Customer Satisfaction: PFU has consistently received positive feedback from customers, who value the durability, performance, and user-friendly design of its products. This milestone reflects the trust and loyalty that customers place in fi Series, SP series and ScanSnap Scanners.
PFU is not resting on its laurels and continues to innovate, with exciting new products and features on the horizon. As technology evolves, PFU remains committed to staying at the forefront of industry advancements, delivering products that exceed expectations and redefine possibilities.
Seiji Murakami, President and Representative Director of PFU Limited, expressed his gratitude to customers, employees, and partners, saying, "Reaching this milestone is a testament to the incredible dedication of our team and the unwavering support of our customers and partners. We are excited to continue our journey, pushing the boundaries of image capture technology and driving innovation to new heights."
For further information, please visit: https://www.pfu.ricoh.com/global/scanners/quality/
Notes:
Total number includes image scanners shipped from PFU as of February 2023. Includes scanners designed, developed, and manufactured by PFU since 1983 (counted by PFU).

The data is based on the market share of document scanners. The market share data for Japan and North America is based on the records of 2022 collected by KEYPOINT INTELLIGENCE (Info-Trends) for 6 segments of document scanners excluding Mobile/Micro scanners. Collected records are mainly about document scanners with a speed of more than 8ppm.
The market share data for Europe is based on the records of 2022 collected by infosource in Western Europe (including Turkey and Greece).