Features
Easy stand-alone network operation with large display
The N7100E is compact with the scanner, computer and large size screen with integrated on-screen keyboard all combined, making it ideal for saving space. The users can perform scanning, data saving, and transmission without the need to use a computer.
Quick scanning speed that supports card scanning
Users can scan quickly during heavy duty with accurate and stable feeding mechanism that supports scanning from thin paper to thick paper, and plastic card.
Plastic ID card and application form can be scanned together easily at the contact window.
High Security to suit user environment
The scanner provides numerous security measures to ensure complete data protection especially when shared by multiple users. These security measures can be applied according to users' actual requirements and their environments. Not only does the scanner implement verification before scanning but also it ensures automatic data encryption during processing and data deletion after scanning.
Login authentication
Strictly controls what people can do with the scanner.
Encryption
Scanned data is encrypted and temporarily stored in the scanner while it is being processed for e-mail, faxing, printing or storage.
Data transmission security
It supports strong security protocols : LDAPS, HTTPS and FTPS
Scanned data deletion
automatically deletes the temporarily stored data from internal memory after scanned data has been emailed, faxed, printed out and saved to a network folder.
Secure initialization
When N7100E is initialized, free regions of the internal memory can be overwritten with completely random and meaningless data. A new cipher key is generated after user information is deleted. All of these ensure that no trace of old user data can be retrieved from open memory.
Perfect Fit Customized to Your Unique Needs
Administrators can customize the job menu on the screen and scan settings to suit the work of a specific user or user group registered to the scanner.
Customized one touch operation
Users can customize "job button" on the job menu. They can simply login to the scanner and select a job from their personalized job menus on the N7100E's touch screen. Customized job menu ensures efficient and it can be possible for each user to secure decentralized data entry.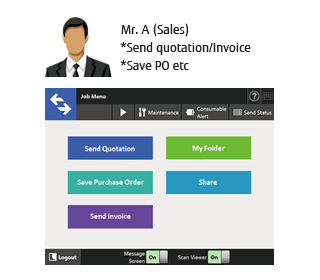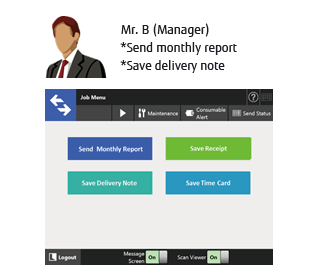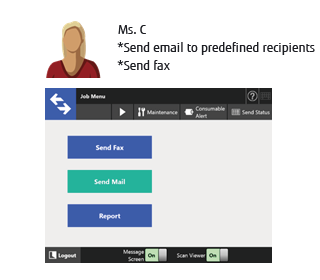 Personalized applications with SDK
User's application can be integrated to the scanner as add-in software using the Network Scanner Control SDK (for Windows®). Added applications are displayed on the job menu.
USB Port for optional USB equipment
The scanner supports USB port, so that hardware keyboard, mouse, and other USB equipment such as contactless IC card reader can be connected for various purposes such as personal identification. The unit can function as a flexible terminal for any work environment
* Only keyboard/mouse are supported.
When using with other USB devices such as IC card reader, development of Add-in application using Network Scanner Control SDK (free download) is necessary.
* Additional development of the built-in add-in application for the N7100 32-bit driver is required to use the application with the N7100E.
* To satisfy the security policy, anti-virus software can be installed as an option to safely expand the functions.

Advanced software for work efficiency
Monitor scanner operation with Scanner Central Admin
Scanner Central Admin* specializes in centralized management of multiple scanners, including batch updates of scanner settings and firmware, as well as monitoring of errors and consumables status. The software is also capable of managing up to 1,000 scanners per server.
*To use Scanner Central Admin on Windows, you need to purchase a CAL (Client Access License). For details about Client Access License, please contact Microsoft.