Features
Wide variety of media captured by most compact scanner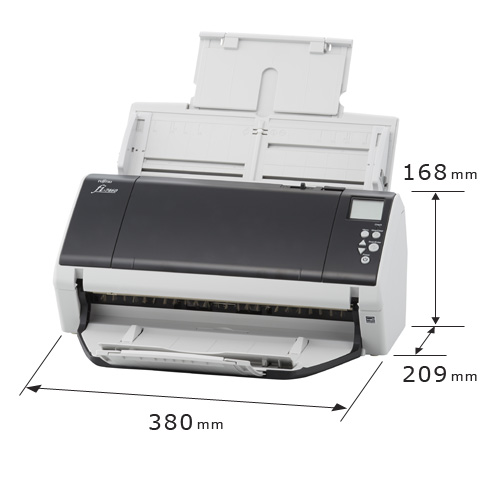 The fi-7460 is ideal for office use as the smallest A3-capable scanner of its class(1). Its wide range feeding ability includes regular A8 to A3 sizes, as well as folded A2 documents and plastic cards. Additionally, no burdensome pre-sorting is required with mixed batch scanning.
Fast scanning with fast start-up
fi-7460 scans at the high-speed of 60 ppm / 120 ipm (A4, landscape, Color, 200 / 300 dpi). It can also recover from power-saving mode (sleep mode) in a second or less, enabling users to scan immediately and continue work seamlessly without pauses or interruptions.
Ability to scan various documents from thin to thick
It can support a wide variety of media. The paper feed mechanism can handle both thick and thin paper (27~413 g/m2), enabling users to scan documents without the concern of paper thickness.
Reliable, uninterrupted volume scanning
The fi-7460 can efficiently scan a large amount of documents. The ADF paper chute (feeder) can accommodate 100 sheets (A4 sheet, landscape, 80 g/m2) and additional papers can be added while scanning. Furthermore, it also includes several functions to ensure reliable scanning.
Stacking Control function to boost work efficiency
This function controls paper output speed so that documents are not piled up in a disorderly fashion. This increases work efficiency as no time is spent realigning messy stacks of papers.
Highly reliable paper feeding mechanism
The adopted functions, such as the Brake Roller, which separates each document, and the Skew Reducer, which assists in feeding mixed batches, are highly reliable and enable easy digitization. Additionally, each Hopper Side Guide moves independently, so you can easily adjust them to the document width for efficient scanning in mixed batches.
Functions that minimize paper feeding errors
Even if documents are creased, wrinkled or when staples were not removed before scanning, Multi-feed Detection and iSOP (Intelligent Sonic Paper Protection) technology protects both the physical documents and the scanner hardware from potential damage. This helps improve and maintain work efficiency. Users can also utilize Manual/Single mode (so that the scanner waits for the next document to be placed within a specified time) for scanning where you need to check the contents of each document or delicate documents that may cause multi-feeds or paper jams.
Connect your business workflow with PaperStream IP and PaperStream Capture
The PaperStream IP scanner driver, which supports TWAIN/ISIS, avoids the inconvenience of fine adjustments to the settings for OCR processes. It automatically converts the images into exceptionally clean images, accelerating OCR even when scanning wrinkled or soiled documents, or documents with a background pattern. With an intuitive interface, PaperStream Capture effectively and efficiently allows you to feed information into your organization's workflow through various capture features during batch scanning.
PaperStream IP (32/64 Bit)
The PaperStream IP driver takes the work out of image cleanup when scanning invoices, ID cards, receipts, forms, or any other day to day paperwork. PaperStream IP automatically improves the image quality, removes unwanted backgrounds, and optimizes your scanned images for optical character recognition. It is fast and easy to use. Our latest innovation, Assisted Scan, allows users to replace poor images by visually selecting the image they lack rather than learning driver settings. If driver settings need to be adjusted for rare and difficult documents, our preview function allows scan operators to see their adjustments in real-time without time consuming re-scans. PaperStream IP works with both ISIS and TWAIN applications.
PaperStream Capture
PaperStream Capture makes advanced capture with Ricoh scanners easier than before. PaperStream Capture has a streamlined User Interface to reduce training time and increase productivity. Not only have we provided users with the most common profiles used by customers—black and white, color, and auto-color—new profiles are easily created or modified through a wizard. We have organized the release screen so that batches can easily be suspended or continued. PaperStream Capture is also integrated with PaperStream IP's assisted scanning for visual cleanup of documents. The reading of barcodes and patch codes make document separation easy, improving document organization.
PaperStream Capture Pro
A high-quality, front end scanning software, PaperStream Capture Pro enhances fi Series' superior scanning abilities with an improved feature set that includes options for high level data extraction and indexing, the import of electronic images, and support for multi-station licensing. PaperStream Capture Pro offers cost-effective improvement tools such as PaperStream IP for optimized image capture. As a distributed capture model, this scanner software captures your data without added costs and resources. This solution benefits organizations and departments that require an efficient yet easy way to convert paper documents into a digital file for high level data indexing and extraction. Improve records management processes and drive down business expenses with PaperStream Capture Pro.
Option: Post Imprinter (Back-side)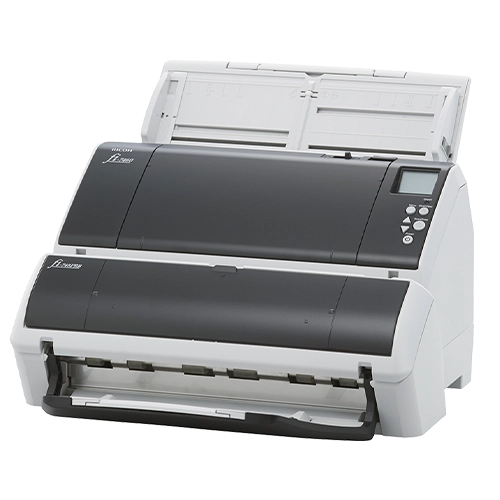 The optional imprinter unit prints identification markers like dates, alphanumeric codes and symbols on reverse side of the original document. This makes it easier to locate the originals of scanned document when you need to reference them.
In terms of footprint (excluding chuter, stacker, and projected parts) of A3-capable ADF type image scanner with scanning speed of 40 ppm or more in A4 landscape (based on the investigation by PFU LIMITED as of March 1st, 2017)