Provide exceptional customer service, effortlessly.
Dual path capability
Our state-of-the-art dual path mechanism enables staff to complete all of their tasks in one place. The two scanning paths process thicker items such as ID cards and passports (including the Machine Readable Zone) alongside A4 documents, on the same machine. As well as the obvious benefits of saved time and effort, it means documents stay in sight of the customer – supporting GDPR compliance and giving customers peace of mind.
Dual Path Mechanism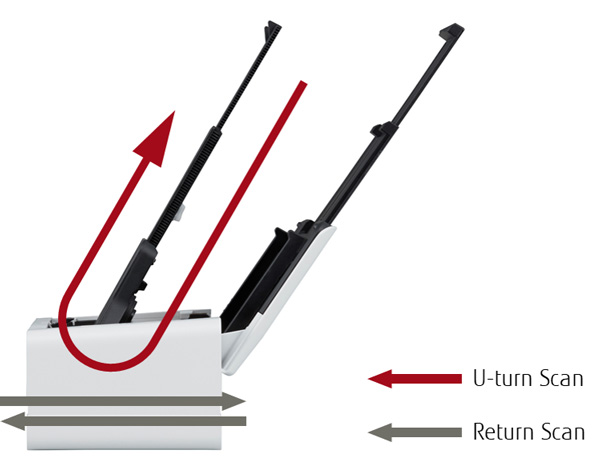 Space-saving design
Taking up half the space of alternative solutions, the fi-800R is perfect for the front desk, or any other place where space is tight. The innovative U-turn path mechanism with Automatic Stacking Technology ejects papers back up through the scanner, removing the need for a front output tray and drastically reducing the machine's footprint. Because of this, the fi-800R can be used in spaces half the size of an A4 sheet.

No-fuss ID and passport scanning
Scanning identification documents is now faster and easier with the fi-800R's convenient Return Scan functionality. ID cards up to 5mm in thickness and passports are both inserted and ejected at the front of the machine – without the need for carrier sheets or paper path switching.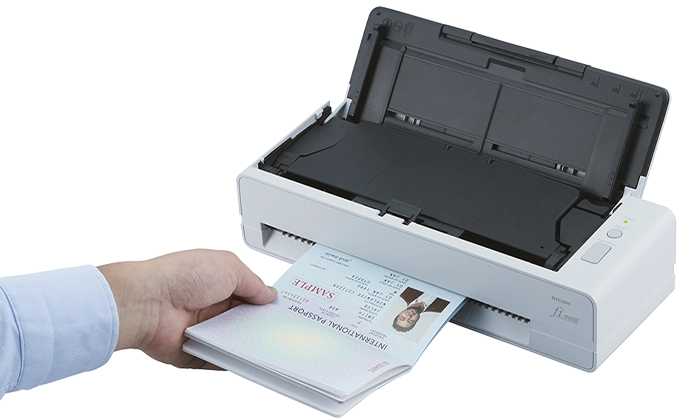 Hassle-free operation
The fi-800R's reliable paper feeding mechanisms help you avoid unnecessary interruptions for customers. Automatic Skew Correction straightens each document before scanning to prevent paper jams or images with missing edges. Newly developed Active Separation technology offers much more precise paper separation, adjusting the pressure applied to each sheet depending on its thickness. Both of these features reduce time-consuming rescans and document damage to provide a more professional experience for customers.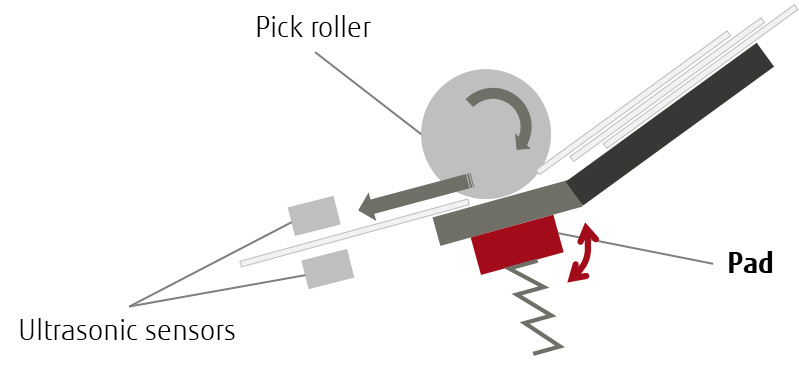 Impressive speed
Nobody likes to be kept waiting in a queue, especially if they're arriving for something important like a business trip or hospital stay. The fi-800R's impressive 40 page/80 image per minute scan speed guarantees a smoother experience for customers. And the 20-sheet Automatic Document Feeder also removes the need to manually input one page after another, further boosting staff productivity.
Robust build
As the world's leading scanner manufacturer, Ricoh builds trusted products that allow you to focus on your business, not your technology. With the fi-800R, we've used all of our 50-plus years of experience and our expertise in craftmanship to design a product that's as reliable as it is innovative.
Industry-leading image quality
Our free bundled driver software, PaperStream IP, has been developed to enhance and optimise the quality of scanned images. It removes stains, imprints and watermarks to deliver crystal-clear readability. This plays an essential role in aiding onward processes such as OCR (Optical Character Recognition). Text can also be inverted to white characters on a black background to vastly improve legibility.
Software automation
PaperStream Capture workflow software (also bundled free) uses patch and barcodes to automatically name, sort and distribute scanned documents, as well as extract information for indexing and other post-scan processes. Captured data (such as from passport Machine Readable Zones) can be automatically fed into your existing systems and workflows, helping you to enrich customer profiles quickly and easily.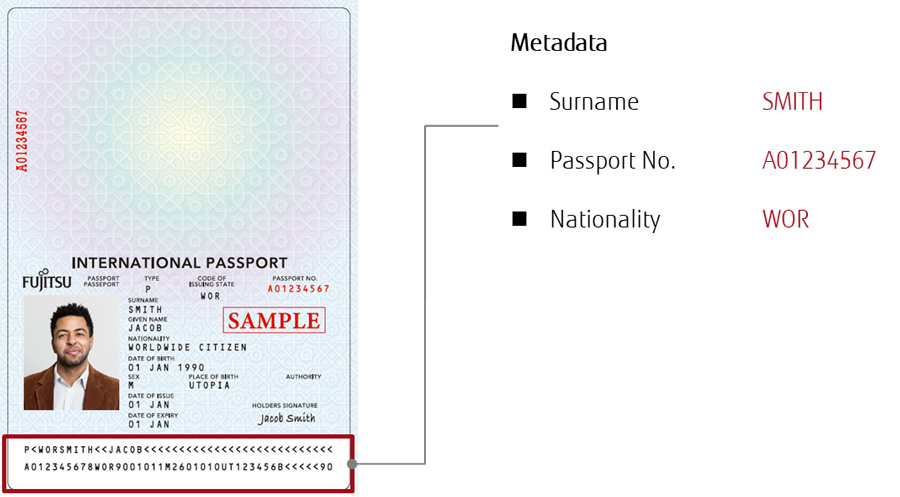 Thanks to Automatic Profile Selection, staff no longer have to waste time sorting documents by format for scanning. PaperStream Capture will automatically recognise different document types and apply the right scanning profile, even when processing a variety of formats in a single batch.